Voice: November 2016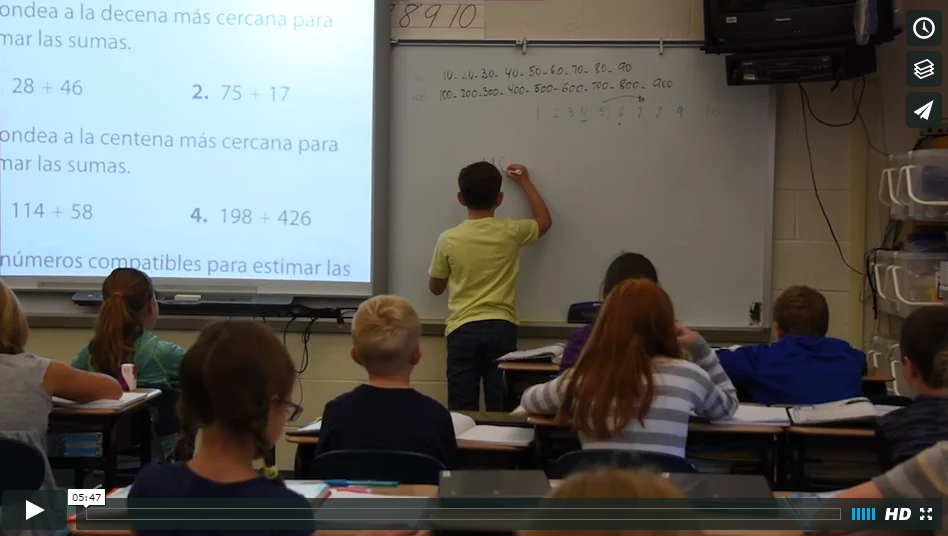 This story is part of a regular series, "Learning Lessons: Great ideas, Great schools,'' that features educators who are doing great things or conducting great programs in Pennsylvania's public schools. For other stories in the series go to www.psea.org/learninglessons.
Walking into Gloria Montes-Kelly's first-grade classroom is like being transported to another country. The bright and colorful room is creatively decorated, and every object is labeled - in Spanish.
Montes-Kelly provides the students in the Spanish Immersion Program at Liberty Bell Elementary School with encouragement, but not translation. For these native English-speaking children, Spanish is the only language spoken in their classroom. In its 26th year, the competitive program is thriving.
The Spanish Immersion Program in the Southern Lehigh School District, Lehigh County, began in 1989 and was the first program of its kind in Pennsylvania. Today, there are only a handful across the commonwealth, and even fewer in public schools.
"The program begins in first grade and goes through fifth," said Maricelis Matsinger, second-grade teacher. "Total immersion means when the children come into the classroom, they will only hear Spanish. We are not allowed to speak to them in English."
Students in the Spanish Immersion Program learn the same curriculum as their peers - the content is simply taught in Spanish instead of English. Core subjects are taught in Spanish, and subjects such as art, music, and physical education are taught in English.
Matsinger is a former early childhood educator, and said introducing a new language at such an early age provides a huge benefit.
"The brain in the child has a certain mechanism," she said. "After a certain age, it gets harder for them to learn a second language. So the earlier, the better. They aren't afraid to speak, and they aren't afraid to make mistakes."
The students in the Spanish Immersion Program aren't native speakers, but Montes-Kelly said her first-graders pick up the language within the first month or so and progress from there.
"They are like little sponges," she said. "They quickly begin to learn and understand the language. It doesn't take long."
Benefits abound
The benefits of being a part of this program may seem obvious - students learn a second language, which gives them a leg up on college applications and in job interviews. And they learn about other cultures, which is important in today's global economy.
"Spanish is the second-most spoken language in America, and that is why these students will have more choices, plus an advantage, when choosing a career or looking for a job in the United States," Montes-Kelly said.
But an unexpected benefit may be the advantage the program gives them when it comes to their other coursework. Many students see an improvement on their PSSA scores, including English.
"The program opens students' minds to understand vocabulary and make connections between vocabulary in one language and another, so it enables them to write better and to communicate in a better way," said Elda Garcia, third-grade teacher.
Kyle Gangewere is president of the Liberty Bell Elementary Parent Teacher Association. Her fifth-grader and third-grader are both in the Spanish Immersion Program.
She was hesitant when first making the decision to enroll her children in the immersion program.
"We were afraid our children would fall behind because they were attempting to learn a new language in addition to learning math, science, social studies, etc.," she said. "We decided to try it out because it seemed like an extraordinary opportunity for our children to learn a valuable skill that they would carry with them throughout their lives."
Gangewere and her family have not been disappointed.
"My children are becoming bilingual, more flexible, have an appreciation for languages, are more sensitive, have a broader way of thinking, and are learning more about cultural differences in people," Gangewere said. "Their listening skills are better. My son scored 'advanced' in all areas of the PSSAs, including English. I honestly cannot think of any negative aspects of my children being in the program thus far."
A rewarding experience
Stephen Sroka is a third-grade teacher at Liberty Bell
Elementary. He's also a graduate of the Spanish Immersion Program.
"For me, being in Spanish Immersion was not just going to school," he said. "The program transported my classmates and me around the world. We could smell new smells, hear new sounds, taste new flavors, and learn new ways of life."
The program greatly influenced Sroka's path in life. He attended Ohio State University to study Spanish and ended up majoring in linguistics and literature.
Though he never expected to be an educator, he found himself teaching ESL to a primarily Spanish-speaking group of all ages at a nearby church in Columbus. He completed a thesis about assisting immigrant families in finding the necessary community resources for their families to thrive.
"I've lived in five different states, and taught in three different states. Wherever I go, when I describe the (Spanish Immersion) program, they're unable to fathom the breadth and depth of cultural and linguistic richness that overflows from the program," Sroka said. "It begins with the teachers. The district trusts some phenomenal people to bring lifestyles, ideas, literature, music, art, and much more into a four-walled classroom that looks like any other in the state."
TIP SHEET
Southern Lehigh EA members Gloria Montes-Kelly, Maricelis Matsinger, and Elda Garcia offer tips for other schools looking to implement an immersion program.
Visit other programs. Find a list of all immersion programs in the U.S. at the Center for Applied Linguistics website: http://webapp.cal.org/Immersion.
Research curriculums. Finding a curriculum and book publisher that have programs available in Spanish to mirror the English curriculum is helpful, so parents can follow along.
Find bilingual staff. It's important to have reading specialists, classroom aids, and other education support professionals who can provide assistance in Spanish and understand the English curriculum.
See it for yourself!
Watch this program in action at www.psea.org/LearningLessons.
Got a story? If you know about a program that would make a good feature for "Learning Lessons: Great ideas, Great schools," please email Cassandra Davis at cdavis@psea.org.