Voice: July 2017
This story is part of a regular series, "Learning Lessons: Great ideas, Great schools,'' that features educators who are doing great things or conducting great programs in Pennsylvania's public schools. For other stories in the series go to www.psea.org/learninglessons.
Walking into the Business Incubator classroom at Big Spring High School, students are hard at work. Some are sewing panels on the underside of an umbrella, others are examining a wooden sunscreen dispenser box, and a third group is working on populating a website with T-shirt designs.
Voice first introduced Big Spring EA member Cherie Powell in July 2016. Powell spearheaded the Business Incubator Program at the Cumberland County school – a "Shark Tank"-style class for aspiring entrepreneurs.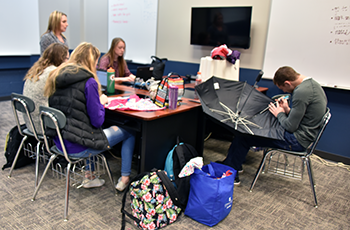 Students were matched with local business mentors. And, at the end of the school year, student groups pitched their ideas to a panel of investors, hoping to gain capital to move on to the second year of the program, which would see them bring their ideas to life and make a profit.
Two businesses from the first year of the Business Incubator Program moved forward to the second phase – Sunpax, which aimed to sell miniature packets of sunscreen in locations where people often forget to bring it; and Hasani Umbrellas, which proposed to design a better, wider, wind-resistant umbrella.
Hasani changed its company name and mission after running into manufacturing roadblocks.
"They were only able to find a willing manufacturer in China," Powell said. "The cost to create a prototype was beyond their budget, so they decided to alter their plan."
The group changed its name to TEKS, and they've created a more fashionable, selfie-friendly umbrella, appealing to today's cell- phone-toting millennial generation.
"They are sewing coordinating fabrics on the bottom sides of the umbrellas to make a fashion statement," Powell said. "They have recently met with a company that will print fabric designed by the students and cut to their specs to speed the creation process."
Sunpax has found success at local golfing establishments, including Penn National Golf Course in Fayetteville and Eagles Crossings Golf Course in Carlisle, as well as Saylor's Market, a grocery store in Newville.
"They conducted market research to determine potential locations for offering their sunscreen," Powell said. "They created a wooden display box with 24 individual sunscreen pens to market to businesses for resale of the individual sunscreen pens."
No easy grade
Students in the two groups are learning about different forms of business ownership and different techniques for marketing their products.
"Each team creates weekly goals for things to be completed and to market their business," Powell said. "The students must manage this while learning how to further improve."
The first year of the class included 31 students, split into six teams creating products. In its second year, Powell found far fewer students entering the program.
"Level 1 this year consists of one team," she said. "They are manufacturing a T-shirt and eventually other accessories with an American theme. Shirts will be American made, and their logo includes an American flag. Students will donate a portion of their profits to Operation Gratitude, which sends care packages to the military."
Powell acknowledged the decline in enrollment for the class, which is an elective. Most students see these types of courses as an opportunity for an easy grade, but that was not the case in Powell's class.
"It was more challenging than students expected and required significant work outside the classroom," she said.
Teaching style altered
With far fewer students in the Level 1 class, Powell has adapted her teaching style.
"Lessons are taught in more of a roundtable discussion, rather than a lecture style," she said.
The Level 1 class meets at the same time as Level 2, so the novice entrepreneurs can observe and learn from their more experienced peers.
"Many of the students are already making plans for next year," Powell said. "They will hopefully begin selling their merchandise at trade shows, school events, and possibly on a webpage."
Despite some challenges – including losing the ability to have career coordinator Lisa Black in the classroom due to scheduling conflicts and staffing cuts – Powell believes the course continues to be a benefit to her students.
"This is such a valuable course," she said. "Students are learning so many things that the average adult has never experienced. They are learning about the importance of good communication skills and learning how to deal with rejection from business professionals. All of these lessons will have such a positive impact on our students."