Voice: November 2018
This story is part of a regular series, "Learning Lessons: Great ideas, Great schools,'' that features educators who are doing great things or conducting great programs in Pennsylvania's public schools. For other stories in the series go to www.psea.org/learninglessons.
The Welsh immigrants who toiled in the mines of the famous Peach Bottom Slate Ridge would be proud of a group of middle school students and two science teachers.
The heritage and history of mining the ridge – running from southcentral Pennsylvania to northern Maryland – from the mid-18th to early 20th centuries have been captured in music and videos through a remarkable project involving teachers and students in different school districts.
The featured artist on the "King of the Quarry'' album is veteran Pennsylvania folksinger and songwriter Van Wagner, who has a day job as a high school environmental sciences teacher in the Lewisburg Area School District, Union County.
The co-writers and researchers are 15 middle school students under the tutelage of Jason Daryman, a science teacher in the South Eastern School District, York County. It is also home to the town of Delta, once the mecca of the Peach Bottom Slate Ridge, and where what were once considered the world's finest slate shingles were produced.
It all started as an idea for just a single song. But Daryman's students' research was so detailed and extensive that they gave Wagner enough material for a nine-song album.
"King of the Quarry'' – also the name of one of the tracks – is now being marketed commercially. The cover background behind Wagner is both an American flag and a flag of Wales – a tribute to many of the miners' Welsh heritage.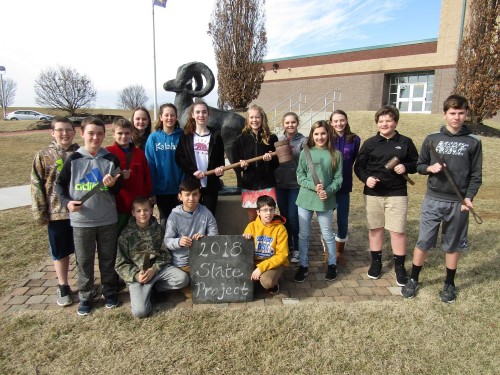 'Songs just kept coming'
Wagner's music about coal mining and Pennsylvania heritage gained a fan in Daryman on YouTube about 10 years ago.
Last December, admittedly thinking outside the box a bit, Daryman approached Wagner about possibly working with his students on a song about the slate mining history in Delta.
"The Peach Bottom Ridge produced some of the best slate in the world for roof shingles,'' he said. "There were other kinds of slate, but Peach Bottom slate had longevity characteristics, like durability and keeping its color. There are still shingles around that are 150 to 200 years old.''
Daryman didn't know Wagner personally at the time, but as a fan of his music and knowing he was a teacher, he thought the idea might appeal to him.
He was right.
"He was really into it, particularly after I mentioned that many of the miners were Welsh immigrants,'' Daryman said. "It turned out he is Welsh on his mother's side.''
A Skype meeting was arranged between the two teachers and a group of 15 South Eastern Middle School students who were assembled for the project. From there, the students started researching slate mining in the Delta area – what it was like to be a slate worker, daily life, the types of tools that were used, and other interesting aspects of the period from about 1740 to the World War I era.
The research the students did over a relatively short period in January and February blew both teachers away. Wagner quickly realized he had more than a song; he had an album.
"I told Jason upfront that songs either come or they don't. I'm willing to try, but no promises,'' Wagner said. "But once the students started feeding me the research, it was just a matter of picking up the banjo and guitar... the songs just kept coming and coming.''
A shot in the dark
The research into Peach Bottom slate had obvious ties and solid lessons for the students' science studies. But they also learned something about songwriting and producing.
Wagner worked back and forth with the students through Skype. He would send them a draft of a song, and they would provide feedback and fact-checking for him.
Wagner has a home studio, and he used Skype to show the students how a song can be arranged and how different instruments can be mixed in.
"Suddenly, what do you know? The songs were out on Spotify and iTunes, and on sale on Amazon,'' Daryman said.
The students also shot video as part of the project, including footage for a video accompanying the "King of the Quarry'' title song, which Daryman said is the students' favorite cut.
"The students decided they wanted it to be a Van Wagner album under his copyright,'' Daryman said. "He finished the project. The kids were fine just getting credit for their work.''
And it was far more than a science class lesson.
"Yes, you could say it was cross-curricular,'' Daryman said.
"I was just trying to think outside of the box, and I got lucky. I sent an email to Van Wagner shooting in the dark.''
A teacher first
Although "King of the Quarry'' turned out to be in Wagner's musical wheelhouse, this was far more than a music project to the teacher by day. It's also kind of what he does in his own classroom.
"Occasionally, music overlaps with the classroom, depending on the studies,'' Wagner said. "I take students on a field trip to a coal mine every year, and when we are underground I pull out the guitar and sing songs about coal mining.''
He is proud of the project, and effusive in his praise of Daryman and his students. Wagner appeared in the Delta community to perform the songs live this past spring, and Daryman returned the favor by attending the Danville Heritage Festival in July to discuss slate mining.
But despite his love of music and success in getting his work distributed commercially – he has appeared on Country Music Television and the History Channel – Wagner has no plans to give up his day job.
"My passion is education. Teaching is what I do first and foremost,'' he said. "I've done some neat things with my music, but at the end of the day … what we teachers do day in and day out is a far more exciting avenue for my efforts.''