For further information contact:
Chris Lilienthal (717) 255-7134
David Broderic (717) 255-7169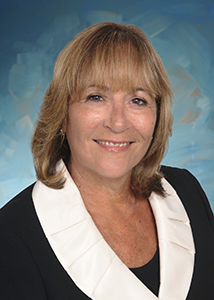 HARRISBURG (Nov. 13, 2018) – Dolores McCracken, president of the Pennsylvania State Education Association, died earlier today following a brief battle with cancer.
"Dolores McCracken was an excellent PSEA president, a phenomenal woman, and a great friend," said PSEA Vice President Rich Askey. "Dolores was not just the president of PSEA. She was also part of our family. We will miss her dearly."
Askey said PSEA members from across the commonwealth are mourning the loss.
McCracken was a local, region, and statewide PSEA leader for more than two decades, directing her talents and energy toward programs and initiatives that improved both public education and the lives and livelihoods of PSEA members.
McCracken was born in New York and raised in Philadelphia. After working for several years as a paralegal, she got involved in public education when her children entered elementary school, serving as the president of the Churchville Elementary Home and School Association. That experience propelled her into a nearly two-decade career in public education, working as a paraprofessional in a sixth-grade inclusion classroom in the Council Rock School District.
Throughout that time, McCracken took an active role in PSEA. She served as the president of her local association and later took on numerous other leadership positions in her PSEA region and statewide.
McCracken was elected PSEA treasurer in 2011, PSEA vice president in 2015, and in 2017, she became the first education support professional member to serve as PSEA president. She led the Association's legislative and political programs, always focused on improving teaching and learning conditions in Pennsylvania's public schools.
During her tenure, McCracken championed bipartisan legislation to promote school safety, reduce time students spend on standardized testing, and protect dedicated school support professionals from having their jobs subcontracted to for-profit companies. All those initiatives became law.
"I have been overwhelmed by the outpouring of support from PSEA members for Dolores and her family throughout this difficult time," Askey said. "Dolores dedicated her life to advocating for great public schools, Pennsylvania students, and the PSEA members she served. While our hearts are breaking, we smile knowing that she leaves behind an amazing legacy for our children, our grandchildren, and all who come after us."
McCracken is survived by her husband Jack, son Jack Jr., daughter Kristin Ellenberger, and grandchildren Dylan, Reese, Logan, and Paige, as well as sisters and many other loving family members and friends.
Rich Askey will become PSEA president, as clearly provided for in PSEA's constitution and bylaws.
An affiliate of the National Education Association, PSEA represents approximately 181,000 future, active, and retired teachers and school employees, and health care workers in Pennsylvania.