Voice: January 2017
Inspiring future entrepreneurs to build new products. Providing athletic opportunities for students of all abilities. Connecting students with other countries and cultures through technology. These are just a few examples of the great things PSEA members are doing in their classrooms across the state, every day.
PSEA is spreading the news about the great things members are doing in their schools. The Association does this through the PSEA website, social media pages, alerts to the media, and Voice.
Most recently, many of these stories have been told through "Learning Lessons: Great Ideas, Great Schools." It includes a feature in Voice, a short accompanying video on psea.org, and a 30-minute program on the Pennsylvania Cable Network.
"We are incredibly proud of the work our 180,000 members do every day for the kids in Pennsylvania," said PSEA President Jerry Oleksiak. "We want to shout their accomplishments from the rooftops, and with 'Learning Lessons,' other features, and the many other communications tools we have at our disposal, we do just that."
Telling these stories serves another purpose as well - connecting members to members. The "Learning Lessons'' series provides tips for others who may want to implement similar programs in their schools.
"There's no need to reinvent the wheel," said PSEA Vice President Dolores McCracken. "Educators and support professionals know that sharing ideas is a huge part of their professions. Through 'Learning Lessons' and other venues, we provide an opportunity to share ideas that could impact millions of kids."
These success stories all have a common thread - PSEA members are committed to providing the best educational experience for their students.
In the following pages, you'll read excerpts from previous "Learning Lessons'' features and other Voice articles. You can find the full text to each of these stories and more at www.psea.org/voice and www.psea.org/learninglessons.
Connecting students of all ages through music in Marion Center Area SD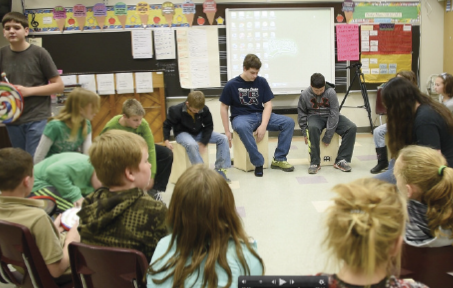 In the W.A. McCreery Elementary Music Room, fifth-grade students sit on what look like plain, wooden boxes. Others hold smaller, unassuming wooden structures.
These don't look like traditional musical instruments. But at the direction of their Marion Center Area High School peers, the students begin tapping and pounding rhythms to create a diverse, vibrant sound. The classroom in the rural, western Pennsylvania district in Indiana County sounds more like a stage for a Caribbean band.
The students are playing cajon drums and bongo cajons, which are instruments found in Latin American culture. The opportunity to play real instruments and learn from older peers is all thanks to Marion Center Area High School music teacher Jonathan Schaller.
In 2014, Schaller was awarded a PSEA Innovative Teaching Grant to launch the "let's play the cajon'' program in his district. The program benefits generations of students, providing Schaller's junior high and high school students with the opportunity to build the cajon drums, create elementary music lesson plans using the instruments, and then get experience teaching their younger peers.
Once the drum kits arrived, Schaller's students took action in a makeshift workshop in the corner of the band room. They created an assembly line with wooden parts, glue, screws, drills, sanders, and sawdust as they built the cajon drums and bongo cajons.
"The project tapped into a very different part of my students that they sometimes do not have the opportunity to experience,'' Schaller said. "This program was very vocational. Some of my students who may not excel as the best musicians, but still enjoy being in band and in the percussion section, made an extra effort to help craft the drums.''
Building the drums from kits essentially cut the cost in half.
After the drums were constructed, Schaller said his students and he spent a couple weeks developing learning objectives for elementary lessons, and putting together simple rhythms that the elementary students could learn quickly. Schaller's 20 percussionists were then split into smaller teaching groups, and each took turns presenting the lessons they had prepared for the fourth-grade students.
Excerpt from article which originally appeared in the March 2016 issue of Voice.
Providing a global education with the Distance Teaching Project in Wallenpaupack Area SD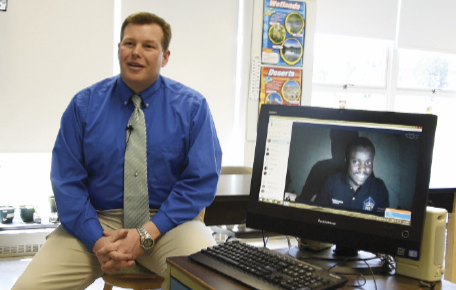 Michael Soskil's fourth-grade students in Newfoundland, a rural town in northeastern Pennsylvania, are video chatting with students in Kenya.
They are comparing ways to get the weather forecast. The students in Kenya don't have access to the internet at home. They can't Google the weather like their counterparts in America. So they pay attention to the clouds - the color and shape, and the direction of the wind.
Soskil's students in the Wallenpaupack Area School District have been learning about clouds, too - the different types and how to use them to predict the weather. They want to share their knowledge with their friends in Kenya.
They decide to make a short video. Using an iPad, a green screen, and assistance from their dedicated teacher, the students are able to help their African peers. They will in turn receive a video from the Kenyan students featuring gardening tips they have learned from expert farmers in their village.
This is the Distance Teaching Project in action - an innovative program developed by Soskil, who was a top 10 finalist for the Global Teacher Prize.
The Distance Teaching Project began a couple years ago through connections Soskil had made online. Through Skype in the Classroom, Soskil organized a cultural exchange between a group of his students and kids in the Kibera slum of Nairobi.
"We sang for them; they sang for us,'' he said. "After that call, my students came up to me, and they had tears in their eyes. They said, 'Mr. Soskil, we see the conditions that those kids are learning in, we see their classroom, and it doesn't look like our classroom. We need to help in some way.'''
Soskil turned the observation into a learning experience for his students. Using their math materials, his students created three-to-four-minute videos to teach the kids in Kibera math concepts.
"And because, in exchange, we wanted them to feel empowered as well, and we wanted those kids to know how much we valued them, we asked them to teach us Swahili, since we are in a culturally isolated area where there isn't a lot of diversity and there aren't a lot of foreign languages,'' he said. "That led to an amazing collaboration that developed into the Distance Teaching Project.''
Excerpt from article which originally appeared in the May 2016 issue of Voice.
Creating opportunities for students of all abilities with the Delaware County IU OPTIONS program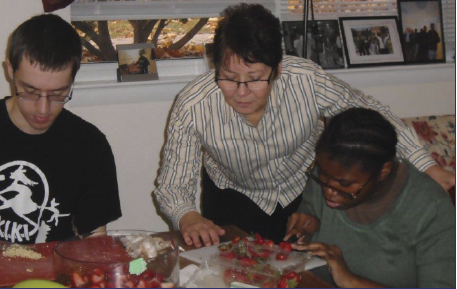 As some students with special needs work at a retail store organizing clothing racks, others are in apartments learning life skills like household budgeting, cleaning, and maintenance. Still others are learning how to use public transportation.
This is their "classroom'' under the Delaware County Intermediate Unit's OPTIONS program - Organized Procedures Toward Integrated Outcomes in Natural Settings.
The program is the only one of its kind in Pennsylvania, and the concept is to give students with special needs the tools to transition from the protective cocoon of high school to the real world.
The IU has four apartments where students will go on certain days, and some 80 Delaware County businesses, hospitals, community organizations, and institutions of higher learning provide job sites. Although 13 teachers and 14 support professionals work day to day with students, about 200 other educators from the IU's 15 school districts also are involved in some way during the school year.
Veronica Herzog, the program's lead teacher, notes that students with special needs, like all students, come with varying degrees of academic ability, and are at different stages of preparedness for post high school life.
"Everyone thinks we work with the lowest-functioning students, and that's not the case,'' Herzog said. "Some of these kids have high IQs, but might be on the autism spectrum, have anxiety issues, or certain medical needs. But like the other students, they need help with the soft skills required in college and on the job.''
That help comes at the worksites, where the students are overseen by teachers and support professionals, and in the similarly staffed apartments.
"You have to get to work on time, you have to get to class on time, you have to follow directions whether in a work or academic setting,'' Herzog said. "You have to stay focused and manage your time well.''
Excerpt from article which originally appeared in the September 2016 issue of Voice.
Inspiring future entrepreneurs to build new products in Big Spring SD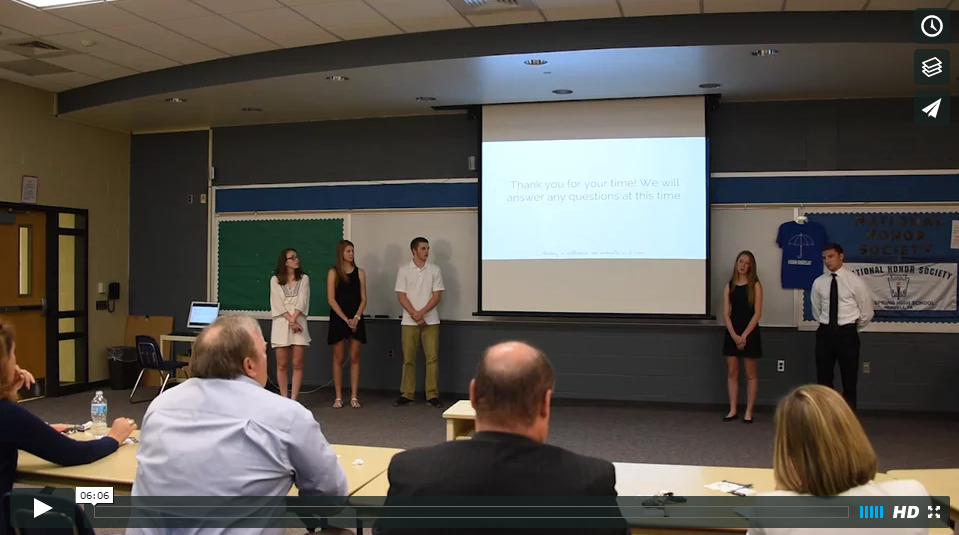 Have you ever heard of Shanma's Chocolates? Or Find My Fido - a company that designs tracking devices for runaway dogs? How about PrismPostal, an outfit that can put a sensor in your mailbox to tell you whether you have mail?
These are all companies that students at Big Spring High School created as a part of a "Shark Tank''-style class that matches them with local business mentors who help teach them how to be entrepreneurs.
On the popular TV show, entrepreneurs pitch their ideas to a panel of investors with the goal of getting funding for their ideas. While the students at the Cumberland County school aren't asking for thousands of dollars from billionaires, they are building companies from the ground up, and learning a lot about life in the process.
Big Spring Superintendent Richard Fry learned about the business incubator program concept at Barrington High School in Illinois while attending a national conference for superintendents. He was excited to bring the idea back to Big Spring.
The 2015-16 school year was the first year of the Business Incubator Program.
"We began the course by having students develop a list of problems,'' said Cherie Powell, Big Spring High School business teacher and Business Department chair. "We called it the 'what bugs me list.' All the things that go on around you, and you wish there was a better way to do it.''
Once the students were in their teams, they chose a problem from their list that would be worth solving.
"They completed research, found out who had the problem, and from there developed a solution to that problem,'' Powell said. "They then developed that solution into a product that is actually going to be marketed, provided they obtain funding.''
The students have received a lot of guidance along the way - not just from Powell and Lisa Black, Big Spring's career coordinator, but also from business professionals serving as mentors to each group and local business coaches visiting the class to teach lessons from their experiences.
The Business Incubator Program provides many benefits for students.
"They are learning all kinds of skills that most students don't have an opportunity to gain until they enter the workforce,'' Powell said. "They're learning how to work as a team, manage personality conflicts, and problem-solve. These are all things you can't look up in a book, but actually have to work through.''
Excerpt from article which originally appeared in the July 2016 issue of Voice.
Providing a unified athletic experience for students in Upper Adams SD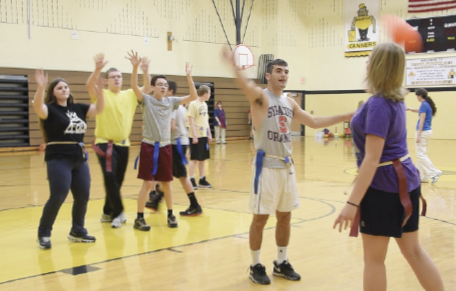 In physical education class at Biglerville High School, students are learning lessons that go far beyond the rules of baseball or the intricacies of basketball skills. They are learning how to adapt, empathize, and interact with each other, no matter their differences.
The Unified P.E. class at the Adams County school brings together general education student mentors with peers who are students with autism or intellectual disabilities. The result? Students learning from each other and growing in unique ways.
"The course is designed to meet the needs of the life skills and autistic students with the help of general education students,'' said Juanita Gardner, physical education teacher. "General education students are paired up with a student from the life skills or autistic classroom. These students will learn various skills and strategies through a variety of activities and sports.
"The general education student will learn what is needed to design and implement an appropriate activity for the students with special needs. Both students participate alongside each other in various physical activities.''
Both mentors and peers benefit from the integrated class, which Gardner started after learning about a similar program from a friend teaching in Maryland.
"The benefits to the Unified P.E. class are two-fold,'' said Suzanne Kuhn, head of the physical education department at Biglerville High School, which is part of the Upper Adams School District. "The peers are learning new skills and work to perfect them each day with practice. They are also learning valuable life lessons with teamwork and discipline. The mentors are gaining lessons in planning, working with others, and learning skills in games and movement. They are also exploring a career in teaching, which may lead to a job they pursue later in life.''
The students who participate in the Unified P.E. program - both peers and mentors - find inspiration in the strength and courage shown by each other.
"I believe the greatest benefit (of this program) is the motivation that the mentors are able to inspire in their peers,'' said Danielle Thompson, an autistic support teacher at Biglerville High School. "This motivation carries over to the classroom as students work to impress their mentors with their grades and achievements.''
Excerpt from article which originally appeared in the September 2016 issue of Voice.
Taking it to the people
PSEA members do amazing things in their schools and classrooms every day. So, how does the Association share them with the public?
PSEA uses social media channels, including Twitter and Facebook, to spread the message far and wide. Members often share these articles and videos, allowing PSEA to reach an even greater audience.
The Association has also partnered with the Pennsylvania Cable Network to broadcast a 30-minute program based on the "Learning Lessons" series. Last year, PSEA produced four episodes highlighting successful member programs. Members can look for four more episodes to be produced in 2017.
"We are excited to share these positive stories with our viewers," said Mitzi Henry Jones, PCN's director of strategic partnerships. "The programs really highlight the great things happening in our public schools.''
Terry Madonna, who hosts "Pennsylvania Newsmakers" and has long been an outspoken voice in Pennsylvania's education community, has also hosted PSEA President Jerry Oleksiak and other PSEA members on his show.
"The work PSEA members are doing in classrooms across the state is crucial to the success of our students," Madonna said. "I'm glad we can put a spotlight on positive stories and share them with the public.''
PSEA also enlists the help of the 10,000 Partners for Public Education to spread the news about the great things happening in Pennsylvania's public schools.
"We need to share these great stories, said PSEA Treasurer Rich Askey. "People love to hear them - and that speaks volumes about how much respect Pennsylvanians have for educators and support professionals.
"Every PSEA member should be proud of what we do. I know I am.''