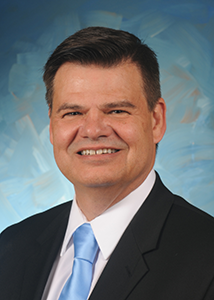 A retired member of the Harrisburg Education Association, Rich has extensive leadership experience at the local, state, and national levels. As a local president, he led his local through both the Empowerment Act and the Financial Recovery Act. Rich served as PSEA Southern Region's treasurer and president-elect. His statewide Association service includes one year as PSEA's vice president, two years as PSEA's treasurer, several years as a member of the PSEA Board of Directors, and five years as a member of NEA's Board of Directors
Rich has served as chair of the Financial Recovery Taskforce for PSEA. During his time as PSEA treasurer, he also served as chair of the PSEA Budget Committee, Audit Committee, and Property Committee.
Rich is also a member of the Pennsylvania Commission on LGBTQ Affairs. Established by Gov. Tom Wolf, the Commission is the first of its kind in the nation. Commission members advise the governor and state agencies regarding policies, programs, and legislation that impact LGBTQ communities.
A 32-year music teacher, Rich spent most of his career in the Harrisburg School District teaching elementary classroom music. He is especially proud of his work creating a concert series with local arts organizations featuring professional artists to perform and work with students throughout Harrisburg's public schools. A poverty-stricken community, it gave opportunities to the young people they would never have experienced.
Born in Harrisburg, Rich is a graduate of Camp Hill public schools. Rich received his Bachelor of Music Education from Westminster Choir College in Princeton, New Jersey. He also participated in Harvard University's "Public Education Leadership Project" for two years. Rich was one of only two classroom teachers involved in the prestigious program.
An avid musician, Rich has served as actor/singer, musical director, and board member for Theatre Harrisburg. He served as the theatre's Director of Education for many years. Rich also served as Director of Music for the Metropolitan Community Church and Second United Church of Christ in Harrisburg. A tenor, Rich has performed as a soloist with several choirs in the Harrisburg area.
Email Rich Askey: raskey@psea.org