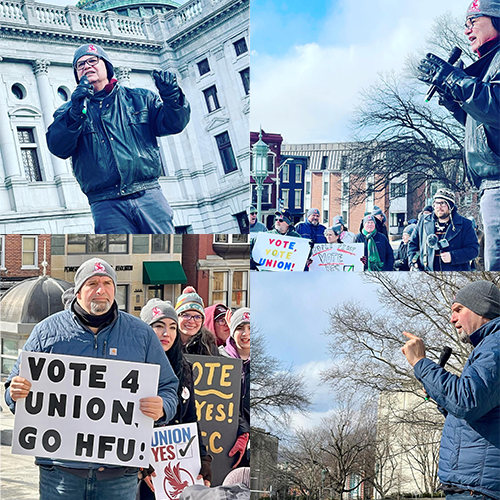 I was honored to attend a rally on the Capitol steps on Feb. 19 in support of Hawk Faculty United in their efforts to form a union.
Hawk Faculty United represents full-time and adjunct faculty members from Harrisburg, Lancaster, Lebanon, Gettysburg, York, and Virtual campuses of Harrisburg Area Community College (HACC), the largest community college in Pennsylvania and the only one without union representation.
It was inspiring to see such a great turnout at the rally, which included Lt. Gov. John Fetterman and his wife, Gisele, alongside passionate HACC faculty and PSEA staff, all there to push for a "yes" vote that has been two years in the making and will finally give these educators a voice in decisions that affect their pay, benefits, and working conditions.
The Pennsylvania Labor Relations Board is scheduled to count ballots on April 8. Faculty will need 50 percent of votes cast, plus one, to win.
PSEA is proud to support HACC's push to organize as we believe that stronger local bargaining units are key to educators getting the salaries, benefits, working conditions, and respect they deserve so that they can focus on their students.