WIN. School Funding. The budget includes a $160 million increase in basic education funding, $50 million more for special education, $25 million more for Pre-K Counts, and another $5 million for the Head Start program. It also includes a $15 million increase for early intervention, $7 million more toward career and technical education, $3 million more for career and tech equipment grants, a $4.7 million increase for community colleges, and a $9 million increase for the State System of Higher Education.

WIN. School Safety Grants. The budget also includes $60 million in school safety grants to help keep our schools safe. That's exactly what educators wanted.

WIN. Threat Assessment. A package of new school safety initiatives includes a threat assessment program that would create threat assessment teams in every public school and build on the success of the Safe2Say Something program. It was among the school safety recommendations included in a 2018 PSEA report based on ideas shared by more than 1,000 PSEA members.

WIN. Trauma Informed Instruction. The school safety package also includes an initiative to establish a framework to support training, professional development, policies, and practices to implement trauma-informed learning approaches in the classroom that will improve the social-emotional growth of students and recognize secondary trauma experiences by educators.

WIN. Higher Education Funding Commission. A separate bill will create a higher education funding commission to review and make recommendations on higher education funding, affordability, effectiveness, and administration. It is a solid step toward finding ways to better support and fund colleges and universities in Pennsylvania.

WIN. Compulsory School Age. It's clear that the sooner kids start school, the better prepared they are to do well. That's why educators have advocated for years to change the state's compulsory school age from age eight to age six. A bill to do that is on its way to the governor's desk.

DRAW. Increase in Minimum Wage and Minimum Educator Salary. Despite bipartisan support and a tremendous effort by PSEA members, bills to raise the minimum wage and minimum educator salary didn't make it over the finish line this budget cycle. But there is deep public support for these initiatives, and they remain a top priority for PSEA.
Sometimes, getting big ideas enacted into law takes time. We'll keep fighting to pass minimum wage and minimum educator salary increases next year. We still have work to do, but we're just getting started.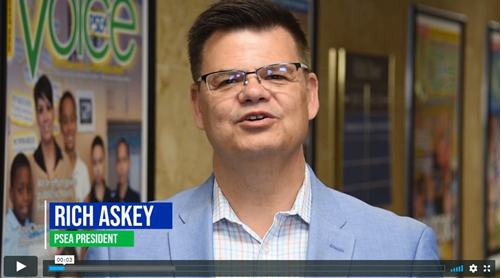 DRAW. Educator Evaluations. For years, PSEA members have recommended key changes to the educator evaluation system. Earlier this month, Senate Bill 751 and House Bill 1607 were introduced to reduce the impact of standardized tests and student performance components, increase the focus on classroom observation and practice, and recognize the impact of student poverty on student performance. In the past week, thousands of members have contacted their legislators, urging them to pass an educator evaluation reform bill.
Senate Bill 751 passed the Senate earlier this week, but time ran out before it could pass the House. Lawmakers intend to take it up when they return in the fall.

LOSS. EITC Funding. Lawmakers approved a $25 million increase in the Educational Improvement Tax Credit program, even though those funds would have been better spent on public education funding. However, the $25 million is an improvement over a $100 million increase to the tax credit program that legislators approved earlier in June, and Gov. Wolf vetoed.
The bottom line?
This is a good budget for our schools, our students, and PSEA members but we'll be back to fight for more!