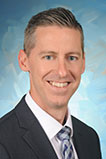 Jim Vaughan became PSEA's executive director in 2015. Jim began working for PSEA in 2004, and became assistant executive director for government relations in 2007. In that role, he was responsible for the association's lobbying, advocacy, and political operations and served as part of PSEA's senior management team.
Since 2007, Jim has been involved in all aspects of the organization's policy and operational decision-making. He also oversaw a fundamental change in PSEA's member-to-member advocacy structure, helping to design a system that now includes 11 full-time Field staff members who serve as region advocacy coordinators and more than 3,000 PSEA members who serve as building action coordinators in their buildings.
As assistant executive director, Jim has led PSEA's successful lobbying and campaign initiatives, deploying the association's lobbying and advocacy staff to defeat legislation that threatened public education and PSEA members' rights and to elect pro-public education candidates for the General Assembly, judiciary, statewide row offices, and the governor's office.
Jim is a 1997 graduate of Millersville University, where he earned a bachelor's degree in political science.
Email Jim Vaughan: jvaughan@psea.org