For further information contact:
Chris Lilienthal (717) 255-7134
David Broderic (717) 255-7169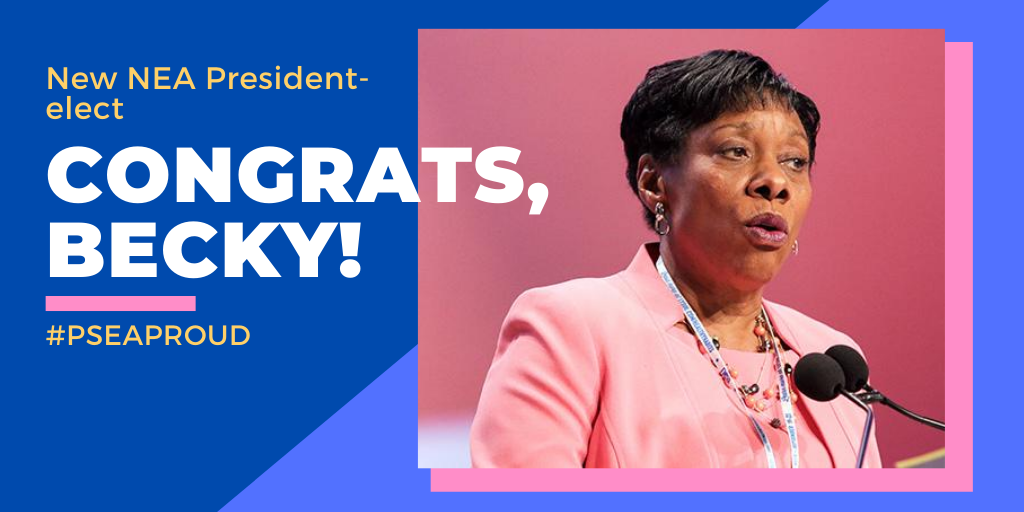 HARRISBURG, PA (August 6, 2020) – Delegates to the National Education Association Representative Assembly (NEA RA) have elected Becky Pringle of Pennsylvania as the association's president.
Originally from Philadelphia, Pringle is a middle school science teacher on leave from the Susquehanna Township School District in Dauphin County. She currently serves as vice president of NEA and previously served as secretary-treasurer.
"Becky has long been a force for positive change here in Pennsylvania and on the national stage," PSEA President Rich Askey said. "She is a devoted advocate for social and racial justice, a powerful voice for American educators and support professionals and the students we serve, and a valued friend and respected colleague.
"On behalf of PSEA's 180,000 members, I congratulate Becky and look forward to continuing to work with her to transform the education professions and improve student learning."
Pringle has led NEA's work to fight institutional racism and address systemic patterns of racism and educational injustice that impact students. She also co-chaired NEA's Task Force on School Discipline and the School to Prison Pipeline, confronting inequitable and unfair policies and practices that push many students out of public schools and into the criminal justice system.
Becky has also played key roles in NEA's work to transform the education professions and improve student learning. Most notably, she led the work group that produced the Association's groundbreaking "Policy Statement on Teacher Evaluation and Accountability" — NEA's first broad endorsement of the need for a student-centered, educator-led evaluation and shared accountability system.
Askey also offered his congratulations to Princess Moss, a music teacher from Louisa County Public Schools in Virginia, who was elected vice president of NEA and Noel Candelaria, a special education teacher in Ysleta Independent School District in El Paso, Texas, who was elected secretary-treasurer.
"Together, this team of leaders will continue to lead the largest labor union and professional organization in America with integrity, intelligence, determination, and grace," Askey said. "PSEA is proud to partner with these remarkable educators."
Askey is a Harrisburg music teacher and the president of PSEA. An affiliate of the National Education Association, PSEA represents about 180,000 active and retired educators and school employees, student teachers, higher education staff, and health care workers in Pennsylvania.