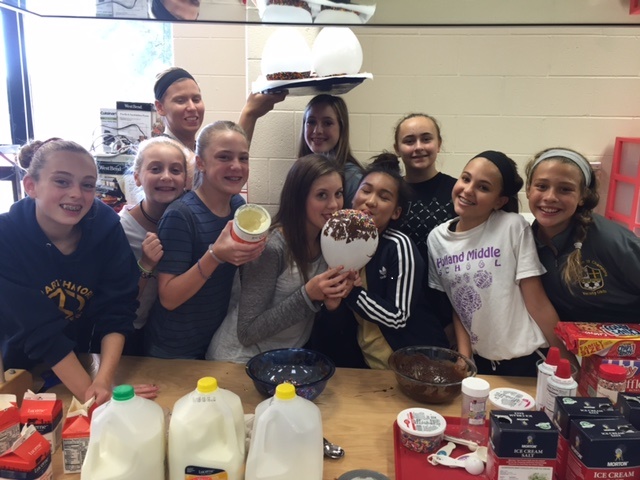 Council Rock EA member Nicole Belick Kratz was in her second year of teaching family and consumer science at Holland Middle School when she learned that due to district renovations, she would not have use of a kitchen – for two years.
How do you teach a cooking curriculum without a kitchen? With a little planning, creativity, and innovation.
With the construction inevitable, Kratz knew she wanted to still provide her seventh- and eighth-graders with a valuable learning experience.
"My students benefit from my teaching choices and deserve the same opportunities that are given to students in the other middle schools," she said.
Kratz asked the Bucks County school to invest in some small kitchen appliances so her students could still independently create food items. Using blenders, waffle irons, panini presses, and microwaves, her students found success in their makeshift kitchen.
Creating fruit smoothies, pizza waffles and homemade waffles, panini sandwiches, and cinnamon buns in mugs, they learned valuable skills with limited resources.
Kratz even collected coffee cans from her colleagues at Holland Middle School and taught students how to make homemade ice cream in the coffee cans while creating chocolate sprinkle bowls with balloons.
The opportunity to learn different cooking techniques was a fun challenge for Kratz's students. And while many may not have access to a full kitchen stocked with appliances, at school they were able to try new ways of cooking in an encouraging environment.
The skills learned through Kratz's innovation will serve them well in their future – whether it's in a dorm room or their first apartment. As Kratz has set the example, her students will have the resources to make the best of the tools they have on hand.