---
---
A message from Rich Askey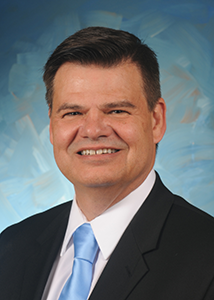 During the COVID-19 emergency, PSEA's goal is to support you.
Whether we're providing updates on legislative activity, the latest news that impacts our schools, students, and livelihoods, or resources to help you teach kids in new and innovative ways, we want to do everything we can to help.
That's why we'll be doing this e-newsletter frequently.
I know that this is a tough, stressful time for you, your families, and your students. PSEA wants to make it easier by keeping in touch and offering good, helpful information.
So, have a look. And let's keep connected.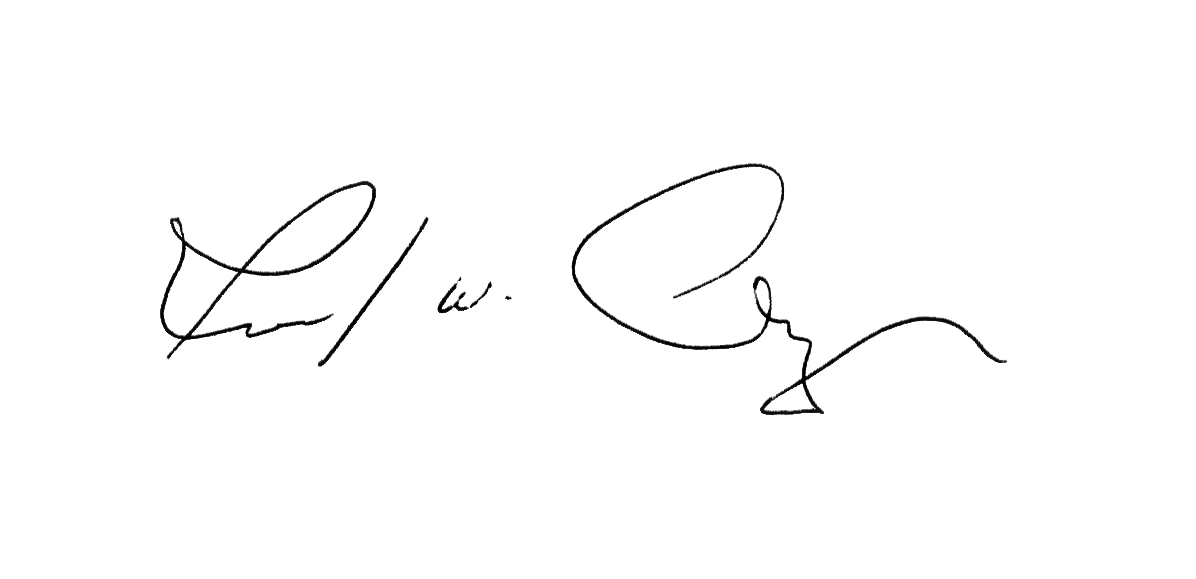 ---
Inside this issue
Breaking News: Wolf closes schools for remainder of the year
Important updates from PSERS
How student teachers are handling the closures
Finding calm in the chaos: Mindfulness training over Zoom
On a bright note: Upper Darby ESPs delight students as "mystery readers"
PSEA's COVID-19 resources
Online learning opportunities through PSEA's Center for Professional Learning
Member Benefits highlight: AmeriServ loans
---
Breaking News: Wolf closes schools for remainder of the year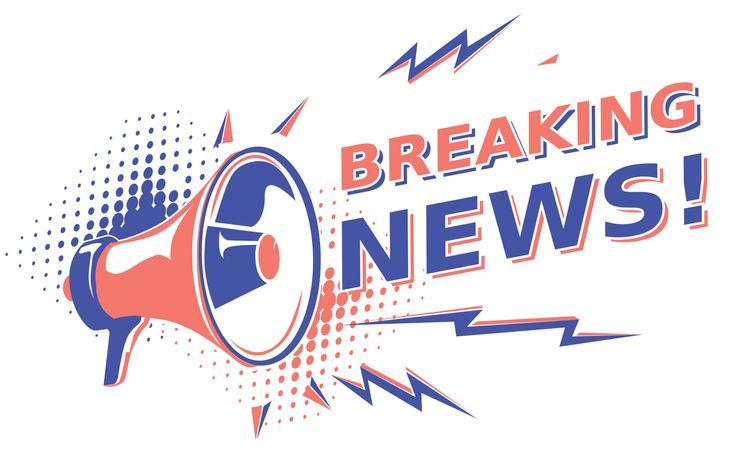 Today, Gov. Tom Wolf announced that Pennsylvania's public schools will remain closed for the rest of the 2019-20 school year in order to guard against the spread of the coronavirus.
"We must continue our efforts to mitigate the spread of the virus during this national crisis," Wolf said. "This was not an easy decision but closing schools until the end of the academic year is in the best interest of our students, school employees, and families."
The governor's order means that schools will remain physically closed to all but essential personnel and that they will continue to make a good faith effort to plan to offer continuity of education to students using alternative means.
While this will be frustrating for many students and educators who want to go back to school, it is important to remember that Gov. Wolf and his team speak to experts about the pandemic daily. They clearly have the health and safety of all of us in mind and are taking this action out of an abundance of caution.
Social distancing is key to stopping the spread of the coronavirus. So, as difficult as this is, closing schools for the year – as many other states have done – and ensuring that large groups of students, educators, and support professionals don't congregate makes sense.
PSEA will continue to offer as much information and support as possible as members work to deliver instruction while schools are closed.
Check out PSEA's comprehensive Frequently Asked Questions document on the COVID-19 emergency and see the Department of Education's information about Gov. Wolf's announcement.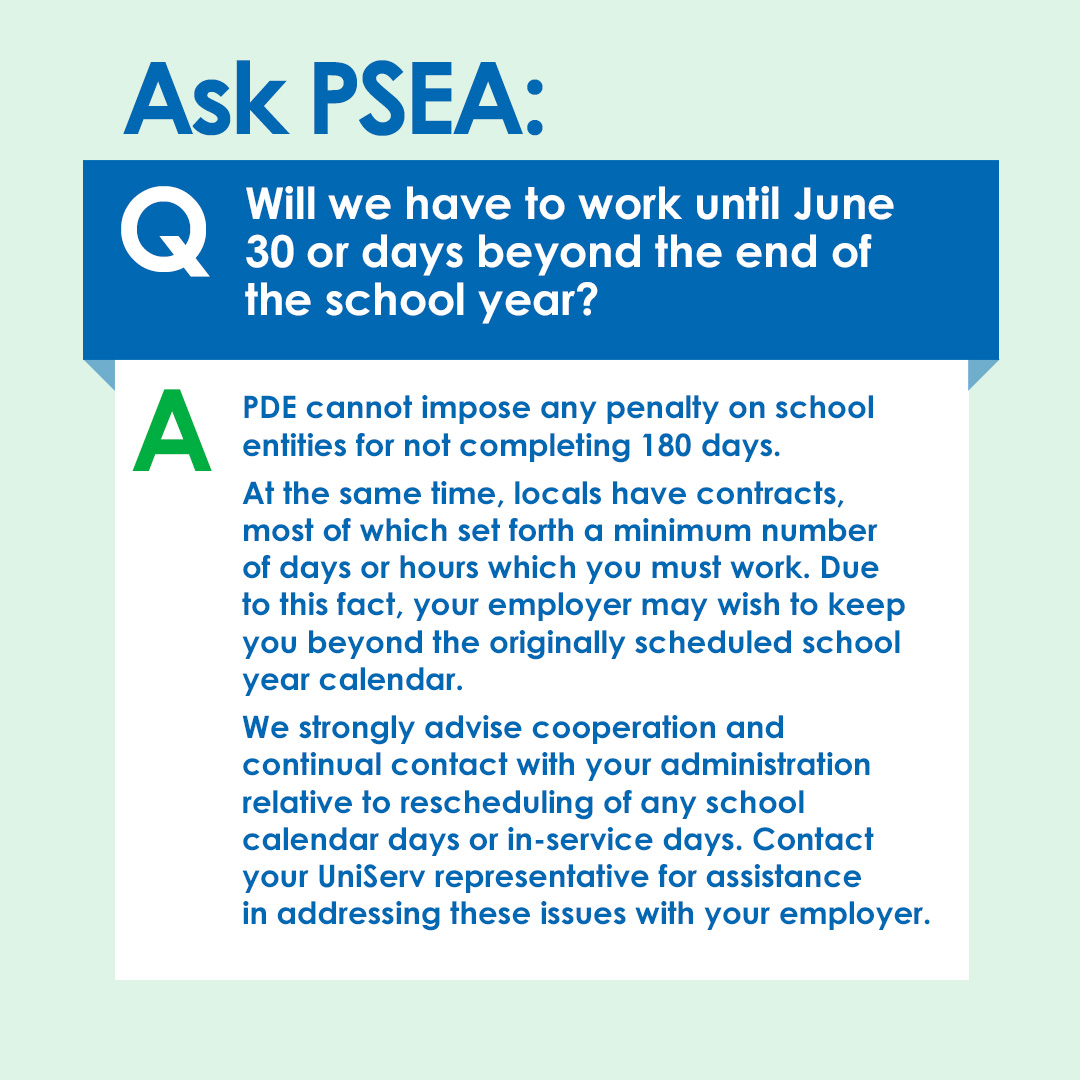 ---
Important updates from PSERS

PSERS reports that some members have received unsolicited emails or calls from people claiming to have the authority to discuss their retirement benefits.
PSERS SAYS: DO NOT RESPOND TO THESE EMAILS OR CALLS.
These cold calls are not from PSERS. PSERS only contacts members to reschedule canceled counseling sessions. If you believe you have received a fraudulent call or email, please report it to the attorney general's office.
Counseling Sessions. PSERS will be holding exit counseling sessions on-line because PSERS offices are closed. Members should reach out to PSERS using this online form.
---
Starting your teaching career in the midst of a nationwide shutdown
While students and educators have been scrambling to make sense of their new post-COVID-19 realities, what about those stuck in the middle: students making the transition to teaching?
We reached out to four Student PSEA members in their final year, each on the verge of making that monumental leap to the other side of the desk when everything came to a grinding halt. We asked about disruptions to their internships, their coursework, and how the shutdowns have affected their job searches.
Here's what they had to say.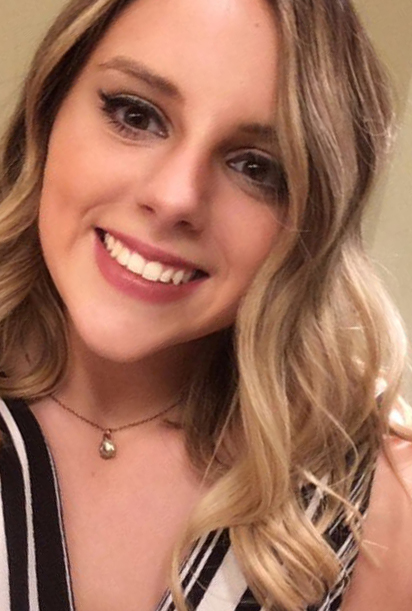 Madison Canfield – Elementary and Special Education major – Mansfield University
Because of COVID-19, I have not been able to complete expected hours for certain courses, which would have given me great experience and shaped me as an educator.
As of right now, I am able to complete my coursework online as alternative assignments by creating online videos and activities for students.
It's really just been a thing where we've had to adapt and overcome based on circumstances.

---
Finding calm in the chaos: Mindfulness training over Zoom

On Tuesday, PSEA hosted the first of many upcoming CARE training meetings over Zoom. These are a fun way to earn Act 48/Chapter 14 hours while tending to your mental and emotional health.
More than 300 members (along with yours truly) tuned in to the session with Sebrina Doyle Fosco, a certified Cultivating Awareness and Resilience in Education (CARE) facilitator, as she guided us on several breathing exercises and mindful practices meant to alleviate the anxiety and stress caused by the COVID-19 emergency.
Doyle Fosco was empathetic, extremely pleasant, and clearly well-versed in mindfulness and compassionate self-care. She talked about leaning into the challenges posed by this emergency and finding strength in one another, while offering concrete tips on how to take care of ourselves. We were fortunate to have her as our guide.
The above word cloud was created using the collective feedback from all the members in attendance, who used Zoom's chat function to share their emotional states, personal challenges, and thanks when the session ended. A quick glance shows plenty of shared sentiments. It helps to remember that, during this time of intense isolation, we're anything but alone.
Stay tuned for more upcoming training sessions in the very near future. You won't want to miss these.
---
On a bright note: Upper Darby ESPs delight students as "mystery readers"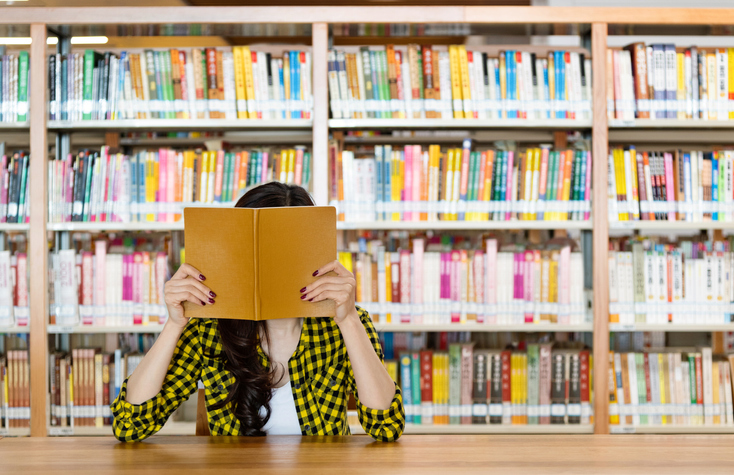 Denise Kennedy, an ESP in the Upper Darby School District, wrote in to tell us about a fun virtual learning program they're running in which support staff video themselves reading books, disguised as "mystery readers."

"We send the videos to one of our reading specialists, and she uploads them into [learning management system] Schoology for teachers to use as a reading/listening activity," Kennedy wrote. "We also provide three clues about ourselves so the teacher can try to introduce us throughout the learning day as the 'surprise' coming later in the day."
During the typical school year Upper Darby does a version of this in person.
It's nice to see another fun teaching tool has made the transition to online.
---
Check out PSEA's COVID-19 resources
PSEA is committed to providing members with the most up-to-date information and resources on the COVID-19 emergency. We want to help you cope with this unprecedented challenge, and we want to make sure you have the tools you need to help your students.
Be sure to visit www.psea.org/covid19 regularly. We update the information you'll find there daily. Here are a few things you'll find.

---
Online learning opportunities through PSEA's Center for Professional Learning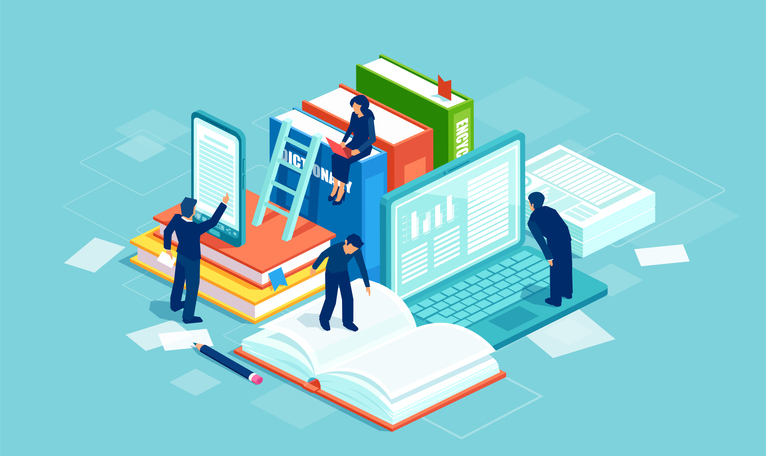 Even as everything else seems to have changed, our Center for Professional Learning courses are continuing on as scheduled. This is a great time to satisfy those Act 48 and Chapter 14 credit hours. If nothing else, it's a productive diversion from all those other at-home activities you're probably getting pretty tired of by now.
Here's what we've got coming up soon:
Webinar:
Act 48 Book Discussions
---
Member Benefits highlight: AmeriServ Loans

No better time to think about home matters than when you're stuck there all day every day. Whether you need a mortgage, refinance, home equity loan, or a personal line of credit, AmeriServ Bank has PSEA members covered.
AmeriServ offers three benefit programs:
Mortgage discount program*
Home equity credit line (Loan in a Line)
Personal line of credit
*NEW BENEFIT: PSEA members now get a $250 credit on rate buy-down options for mortgages.
Click the link below to learn the details of each program.